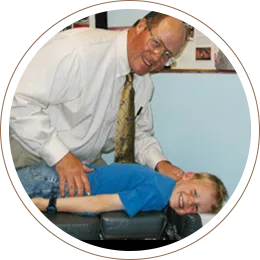 At Sunrise Chiropractic, we believe that by finding your underlying problems will allow chiropractic care to increase your body's ability to heal naturally like the rising sun. Through correcting nervous system dysfunction within your body caused by subluxations, your body will have the ability to adapt better and live the life you used to have.
Many of our current and past patients have found chiropractic care with us improves overall body function, decreases symptoms, increases healing and balance and allows you to function at your optimal level of health. Dr. Greer specializes in helping patients overcome their underlying problems which help symptoms such as headaches, migraines, digestive and respiratory issues, spinal pain and muscle weakness, to name a few.
Our Techniques
At Sunrise Chiropractic, we believe in two approaches to get the best results. The first being our adjustment style—Thompson Drop Table and Pierce-Stillwagon technique. Using the Thompson Drop technique allows Dr. Greer to adjust your body without the need for twisting or rotating your body. This often helps new patients feel more comfortable!
For families bringing in small children, we'll always show the parents exactly what type of pressure is placed on their child's spine during an adjustment. Many are surprised when they realize how gentle it is—in fact, some of our young patients don't even know they're being adjusted.
To make sure we properly and accurately diagnose your problem, Dr. Greer uses many different tests so we can find your underlying problems and improve your body's ability to reach optimum health.
Let Us Help Your Family
We'd love the opportunity to discuss how chiropractic care can positively influence your life and encourage natural healing from within. In addition to chiropractic adjustments in our practice, we'll always give you tips, exercises and at home stretches to further your wellness. Contact our practice to get started.
We look forward to solving your real problems! Call us at (520) 413-7402.
What is your Core 4 Score?
Your CORE 4 Profile Maps out the Cause of your Problem and Shows a Path Back Back to Strength and Recovery
Your CORE 4 Profile
Orthopedic- Dynamic Motions Patterns
Neurological Control
Chiropractic – Cortical Integrity
Postural Compensations – Balance